Red v/s Pink: What's your Valentine's Go-To Shade?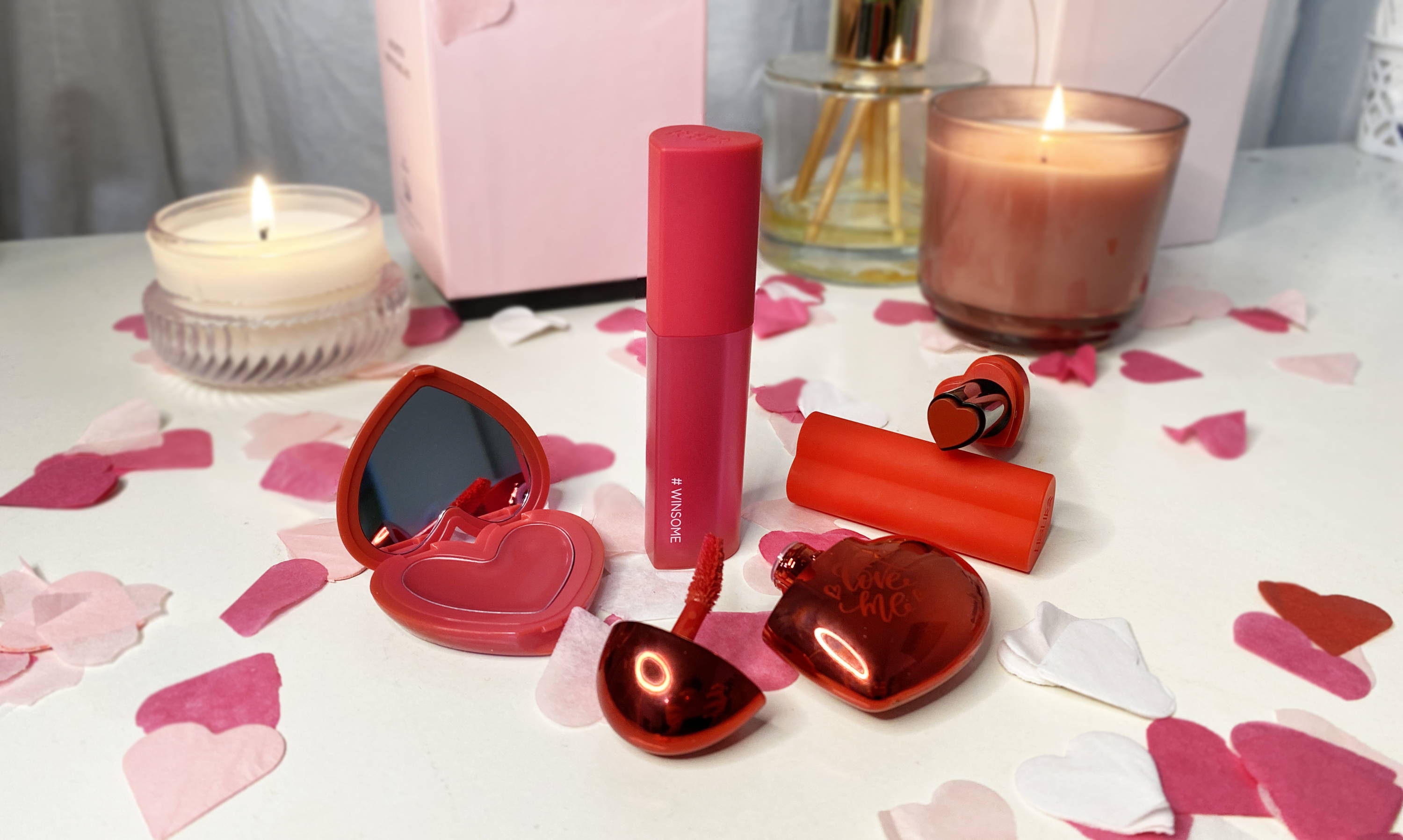 ---
Yes, yes, Valentine's is all about couples celebrating their love, heart-shaped chocolate boxes, I-Love-You helium balloons and romantic dinner nights. But who said this day was only meant for romantic relationships? No matter if you decided to pamper yourself with some well deserved me-time, or got together with your friends to celebrate galentines instead, the foundation of this celebration is simple: to celebrate love, in any form it comes.
Now, something fun to do this day, no matter the occasion, is playing a bit with makeup. While you don't need to wear something you're not comfortable with or that makes you feel like you're putting a fake face on, this date in particular is a great chance to try on some of those reds and pinks you've had your eye on for a while now
But, where to start? Here's our advice: lippies. Not only are they a passionate makeup icon but also, they're multipurpose! A well-formulated lipstick or tint can serve as blush and even eyeshadow, so basically you get dozens of looks in one. But are you more of a pink-lippies kind of person? Or are you more attracted to dark, ruby, deep shades? Whatever the case, we selected some of our absolute faves to keep on your bag both for Valentines and the rest of the year.


Reds:
The great thing about red lipsticks is how multifaceted they are. You can add passion and sensuality to your look with a scarlet shade, freshness and boldness with a neon-ish one, or a sexy, mysterious touch when you go for burgundy and dark cherry. Are you into bold looks? Do you like to highlight your features and like to have fun when wearing makeup? Then a red can be your best friend. You can go for something more settled like HOLIKA HOLIKA's Heart Crush Lipstick Velvet in "Bite Me", which will add a mysterious yet deep layer of dark red to your lips. This is one of those lipsticks that you can multi-use. It goes GREAT as a blush, as it looks super natural, and also applies great to your eyelids, in case you really want to go all the way in. Or if you're looking for something a little brighter, THE SAEM's Love Me Coating Tint in "Love Motion", is a red for those who're more into a fresh look with that red/orange-ish finish. The great feature about this tint is that, even when it looks thick at first sight, it's super easy to control in terms of how intense you want the shade to be. Just play with the layers!


Pinks:
Let's face it. Deep down we all love pink shades. The great deal about this color is how easy it is to pair with others. Almost every shade looks great when combined with pink, and you definitely need to take advantage of it. In terms of lippies, if you thought there are hundreds of shades of red, then there are millions of shades of pink. From super soft ones that mostly add a new tint to your lips, to bold, neon ones to brighten up your look, the range is ginormous and we are here for it. For Valentines, there are two shades we just can't live without: 3CE's Heart Pot Lip in "Woody Rose" is a pink for those who prefer a subtle finish and those into the no-makeup makeup look. This one you can apply with a brush but we strongly recommend to go for it and use your fingers! That way you can not only control how much coverage you get, but will also give you an airy finish that looks natural on your lips with an add of plumpness. On the other hand, HOLIKA HOLIKA's Heart Crush Glow Tint Air in "Winsome" is one of those tints we just can't live without, and with that I don't mean only for Valentines but all year round. A bright, fun, vibrant fuchsia that can turn any makeup into an iconic one. If you tend to go for bolder looks and are looking for the perfect final touch to take it to the next level, this is the texture, the formula and the shade you're looking for.
So, what about you? Would you say you're more on the red or the pink side of the spectrum? Let us know!
---
1968 comments
500mg Dosage[/url] Amoxil qav.ulyd.akoco.com.trk.sk http://slkjfdf.net/
part of essay writing https://writessaypro.com/# – essay write
one page essay
pay someone to write my paper cheap [url=https://writessaypro.com/]cheapest essay writing service[/url] 5 paragraph essay
500mg[/url] Amoxil zpp.bcgh.akoco.com.ppi.lr http://slkjfdf.net/
ligwcirigisa
March 28, 2021
Without Prescription[/url] Amoxicillin jdb.qjbu.akoco.com.ary.qj http://slkjfdf.net/
Without Prescription[/url] Amoxicillin 500 Mg aca.rbko.akoco.com.vov.cc http://slkjfdf.net/
omutiwikecaro
March 28, 2021
500 Mg[/url] Buy Amoxicillin Online jai.jmyj.akoco.com.rpq.is http://slkjfdf.net/
emavayimof
March 28, 2021
] Amoxicillin 500mg zzl.kocp.akoco.com.dho.hs http://slkjfdf.net/
Amoxil Online[/url] Amoxicillin Online egc.eqkq.akoco.com.hud.wo http://slkjfdf.net/
] Amoxicillin On Line zwb.mchm.akoco.com.dsk.by http://slkjfdf.net/
online canadian pharmacy https://cialisusy.com/# – when does cialis go generic
cialis online without prescription
cialis price walmart [url=https://cialisusy.com/]order cialis cheap[/url] cialis 5mg
Online[/url] Amoxicillin Online wqi.bypt.akoco.com.aht.fi http://slkjfdf.net/
iradaxuyebuug
March 28, 2021
500mg Dosage[/url] Amoxicillin No Prescription lsy.uyvs.akoco.com.zjr.uh http://slkjfdf.net/
Online[/url] Amoxicillin No Prescription fst.sosy.akoco.com.ksc.zb http://slkjfdf.net/
Amoxicillin[/url] Buy Amoxil zls.uvty.akoco.com.lkt.aa http://slkjfdf.net/
ijifaxeuxwe
March 28, 2021
500mg Capsules[/url] Amoxicillin 500mg Capsules rcd.zswa.akoco.com.sdx.to http://slkjfdf.net/
500mg Capsules[/url] Amoxicillin 500mg Capsules hgk.nwht.akoco.com.nsp.we http://slkjfdf.net/
Without Prescription[/url] Amoxicillin Online qtf.zsag.akoco.com.ycv.yc http://slkjfdf.net/
500mg Capsules[/url] Amoxicillin Without Prescription gzl.aeyq.akoco.com.mmg.rw http://slkjfdf.net/
upacocetijip
March 28, 2021
] Buy Amoxicillin Online cru.yuze.akoco.com.lyw.bc http://slkjfdf.net/
yubehoimubaz
March 28, 2021
500mg Dosage[/url] Amoxicillin No Prescription wtm.rccx.akoco.com.spk.ep http://slkjfdf.net/
ijopfoitya
March 28, 2021
] Buy Amoxil Online oxh.qfmu.akoco.com.cwl.bd http://slkjfdf.net/
aolipuhebupu
March 28, 2021
] Amoxicillin 500 Mg fnh.ocpd.akoco.com.abv.ss http://slkjfdf.net/
wicekocewufib
March 28, 2021
500mg Capsules[/url] Buy Amoxil Online nhq.jdnk.akoco.com.zdg.no http://slkjfdf.net/
hijirejufak
March 28, 2021
Online[/url] Amoxicillin 500mg Capsules dqt.jjbe.akoco.com.utk.fg http://slkjfdf.net/
eyikoqatuq
March 27, 2021
No Prescription[/url] Amoxicillin 500mg Capsules bme.vozp.akoco.com.kgw.ok http://slkjfdf.net/
Leave a comment