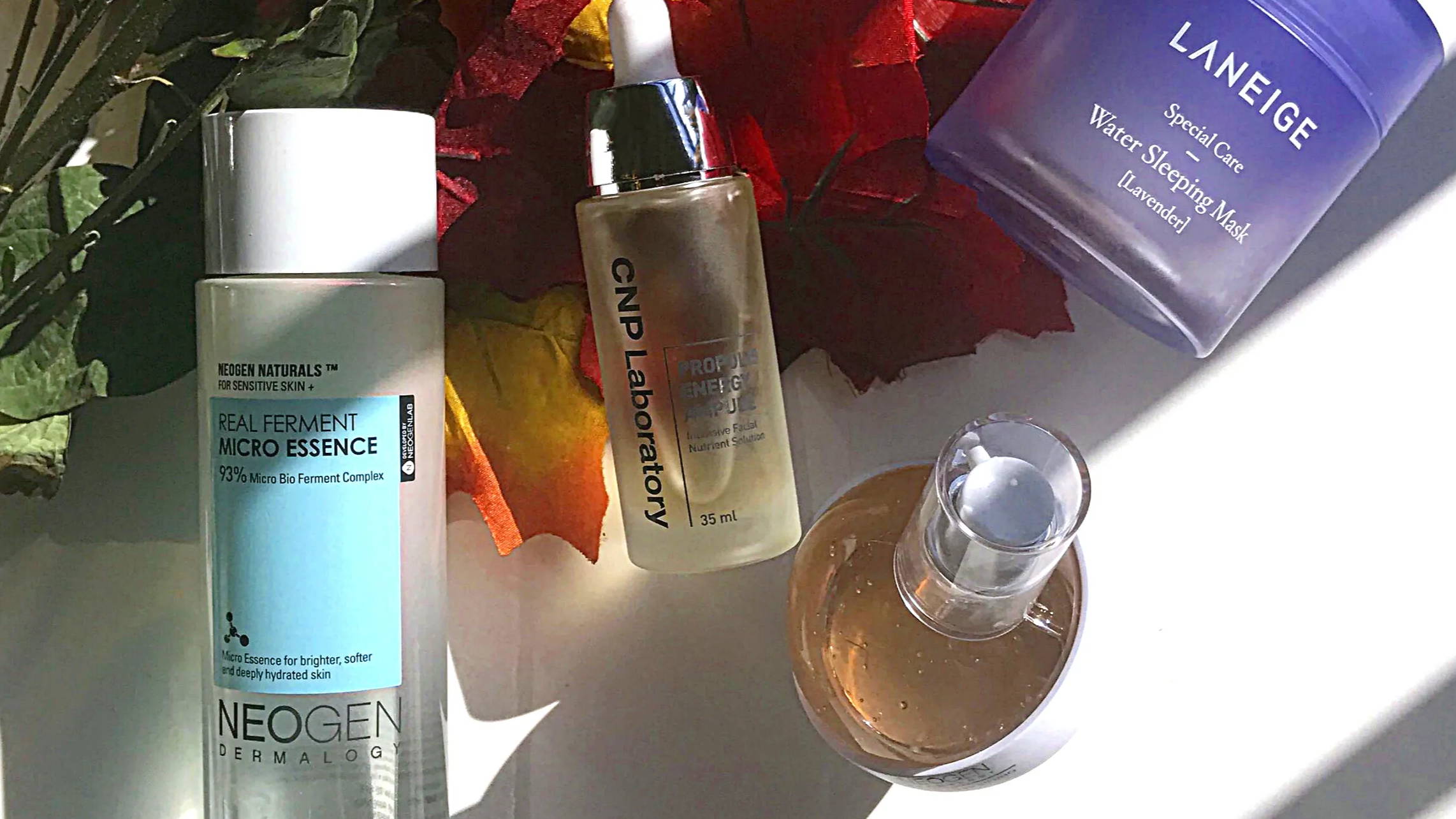 ---
Let's talk about nightly skincare!! As I get more educated about skincare and my skin needs, I find that I have used different skincare based on seasons and whether it is a morning or evening routine. As a beauty blogger, some of my choices are due to testing out new products, but I do follow my personal skincare guidelines, such as lighter gel-like products during the summer, more occlusive at nighttime, balms are good in the winter and so on. I also have more steps than most people in my skincare routines, but you can have a great skincare routine that takes care of all of your needs with just a few products. The secret to that is to identify what your skincare issues are and how you wish to address them.
Nighttime routines are really important as when you are sleeping, your body is busy at work. Your skin needs to recover daily; think of it as a reset or reboot. Overnight, your skin tries to repair itself and having a good solid nighttime routine can help provide your skin with beneficial nutrients and ingredients.   So take some time, think about your needs and come up with a list.
For me, my main issues are blemishes, wrinkles and skin texture. I have oily skin, but it tends to get dehydrated. My goals are to find products that will help with those issues and give my skin the extra boost it needs while it repairs itself overnight.   Finding ingredients that are multi-tasking also help as well - such as how to get radiant skin and fight blemishes at the same time. I wanted to keep the list of skincare products small, so I have only four products to showcase, but you can add in specific skincare products based on your needs. I personally added an eye cream and also a Retinol product to this routine.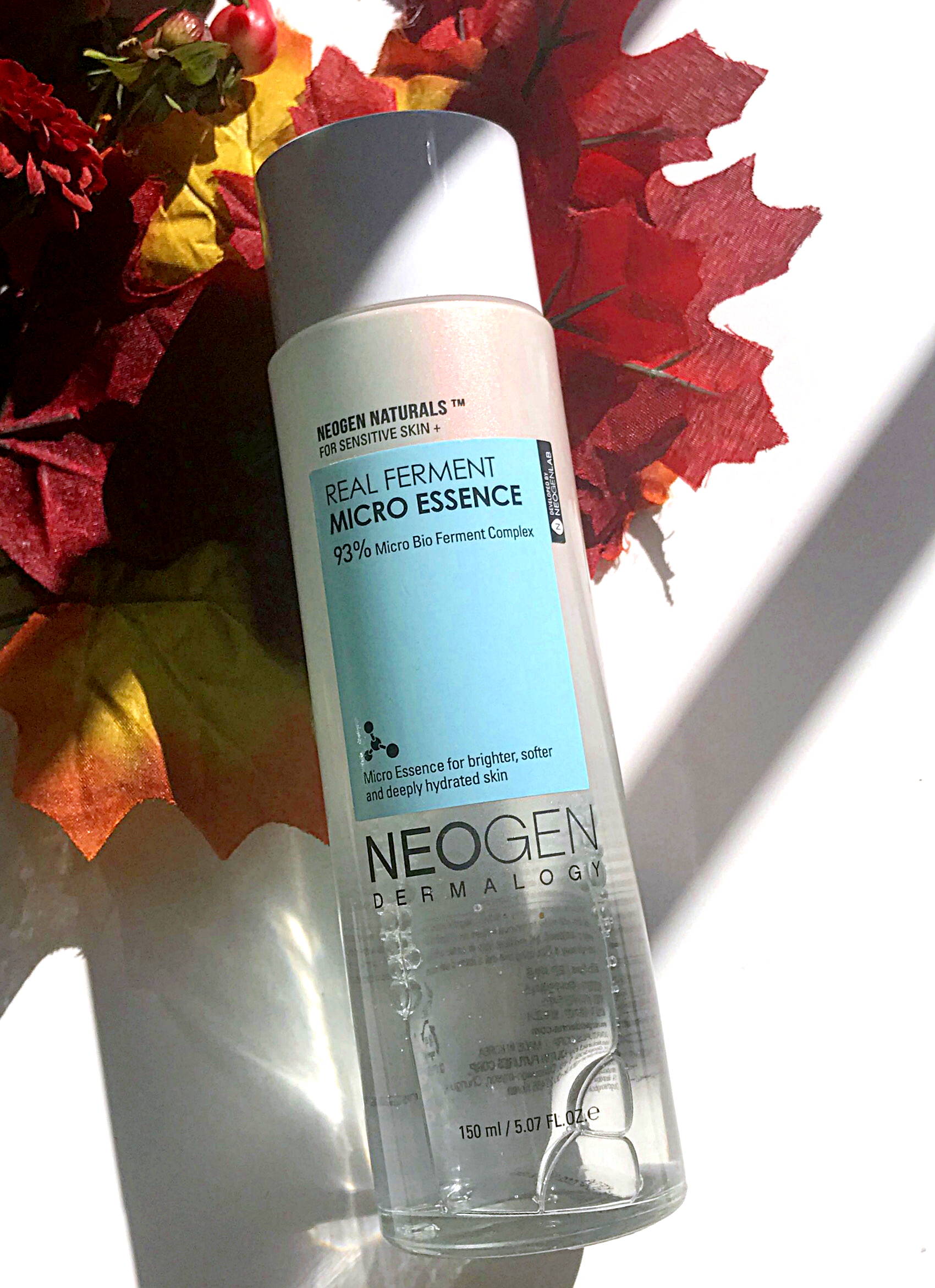 NEOGEN Dermalogy Real Ferment Micro Essence 150ml
First Essence Treatment: Ahhh, this product can be confusing as it has the word ESSENCE in it, so let me explain. There are two types of essences: the first type is a traditional essence, which is thicker than water and is used somewhere between the toner and moisturizer steps.   I use those types of essences interchangeably with serums.   And then there is the other type of essence, called First Treatment Essence (FTE) and is also known as First Essence, Treatment Essence and/or Treatment Toners. These are very watery concentrated formulas with fermented ingredients, very nutrient-enriched and they prep your skin, while providing benefits that will help reduce/prevent fine lines and wrinkles, dull and uneven skin tones.   These are boosters and provide an instant shot of hydration and nutrients to your skin and prep your skin to accept your other skincare products.  
Neogen Dermalogy Real Ferment Micro Essence is an FTE - its name really gives it way:   Ferments and Essence = FTE. This contains over 93% fermented ingredients, like Bifida Ferment and Saccharomyces along with hydrating Birch Sap and brightening Rice Extracts ~ best of all, there is no scent! A lot of FTE's have a distinctive odor to them that takes some time getting used to! Another bonus in this FTE is the addition of Amino Acids which have a ton of benefits for your skin: maintaining hydration, protecting from free radical damage, soothing, strengthening while reducing fine lines and wrinkles.   Neogen's FTE is a watery product, skin friendly at a pH level of a 5 and is great for multiple layers before moving onto to my next step, which is another Neogen product.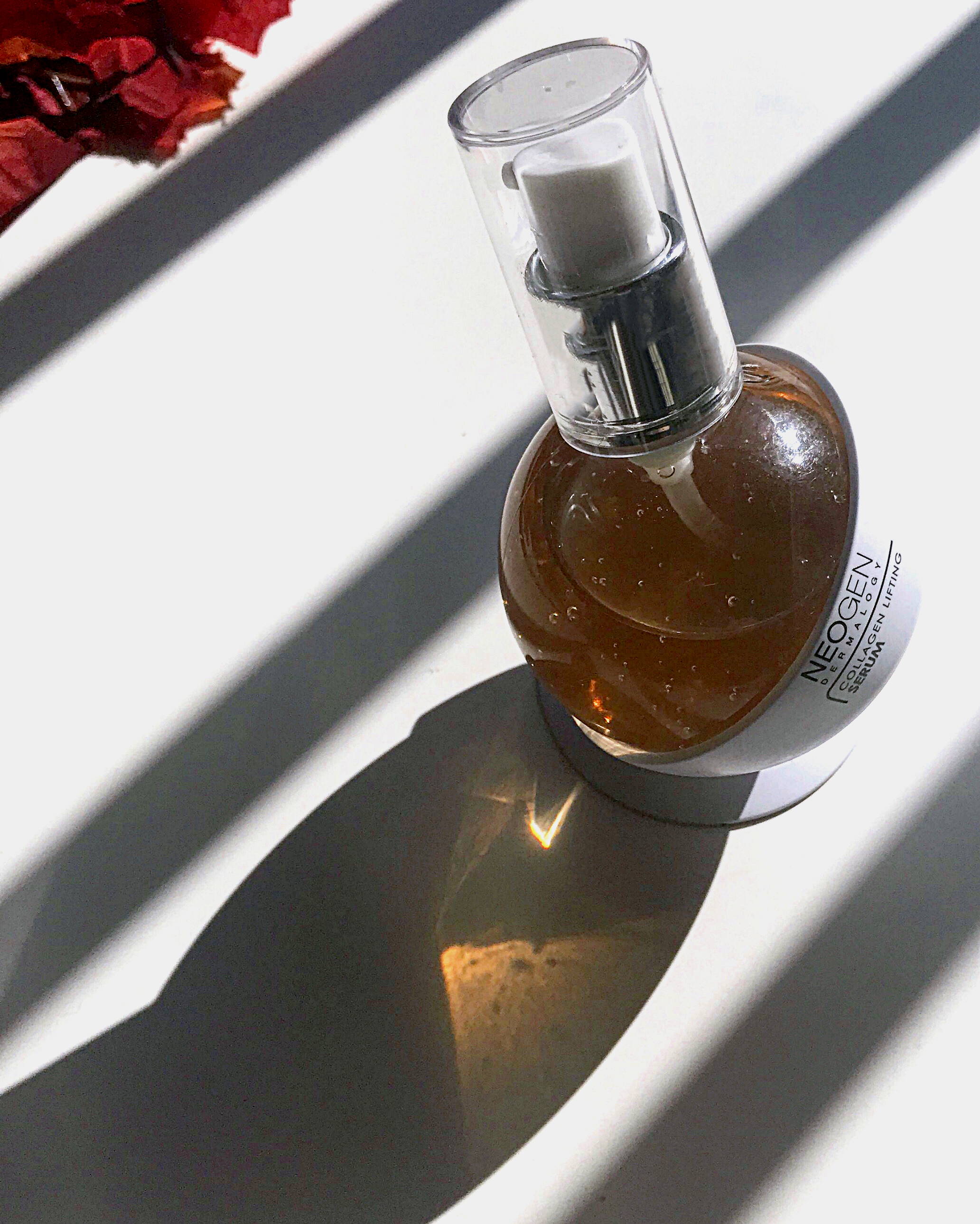 NEOGEN Dermalogy Collagen Lifting Serum 85ml
I have aging skin so I need something to help with preventing moisture loss, keeping my skin supple and deeply moisturize. Collagen is a tricky product for me, as I have broken out in blemishes with collagen products in the past, but I do believe that was more about a specific brand's formulation and not with collagen itself.   Our bodies naturally produce collagen, which is part of our dermal layer – when we are young, our skin is firm and elastic, but as we age, our collagen production slows down, causing sagging, wrinkles and even a decline in skin moisture. Collagen will deeply moisturize, while providing a radiance and glow to your skin. Its molecules are too large to penetrate your skin but they do prevent moisture loss and keep your skin supple.
Neogen Dermalogy Collagen Lifting Serum comes in this amazing bottle that looks like that famous Ovalia Egg Chair in the movie Men In Black - and the round bottle does swivel in the "chair"! This is a beautiful amber colored serum that is very lightweight and fluid, so it absorbs quickly without any sticky tacky residue. It has a slight floral scent to it that disappears quickly. This contains 1,000ppm of Hydrolyzed Collagen, along with some nice anti-aging Peptides, including Copper Tripeptide-1. Fermented Soybean, oh so good for dehydrated skin, is also in here, providing more hydrating, moisturizing benefits.   This really helps fill my skin with moisture and gives my skin that nice chock chock look.
CNP Propolis Energy Ampule 35ml
Now I need to care for my zits, which I decided to choose a product that will not only help with that, but also provide more glowy skin. Seriously, I cannot have enough glow! CNP Propolis Energy Ampule -- honestly, I wanted to try this after I saw it on the K-Drama Hotel Del Luna! What is Propolis? Propolis is created by honey bees by using the sap from evergreens or the sap on conifer, evergreens and other trees whose leaves are needle-like.   This sap is then combined with beeswax and results in a sticky, resinous goo that is used to build their hives, which is why it is also known as bee-glue! Propolis has been used for medicinal purposes for thousands of years, and is known for its anti-bacteria, antiseptic, anti-inflammatory and anti-fungal properties as well as speeding up the healing time on wounds. It contains anti-oxidant properties due to its slew of vitamins and minerals, with over 50 different flavonoids.
Propolis also is an emollient, so it is not only a good blemish and anti-aging treatment, it also moisturizes your skin as well. We humans have not been able to synthesized Propolis with the same properties - it is that much of a mystery to us! I will go out on a limb and say I love Propolis a little bit more than honey as a skincare ingredient. Alas, as an oily-skinned person, most Propolis products are too sticky and tacky for my skin, so I was looking for a thinner, more watery type of Propolis product without the dewy tacky finish. CNP Propolis Energy Ampule looks like it would be a thicker product, but it isn't. This gel-like fluid has a lovely faint spicy floral herbal scent to it and it also contains moisturizing and healing Beta Glucan along with anti-aging peptides. This is so lovely and despite its lightweight texture, any rough or dry, flaky spots are softened quickly and it provides a nice long lasting radiance to my skin, while not clogging my pores and it helps keep my skin clear.
LANEIGE Water Sleeping Mask Lavender 70ml
So far, I have applied hydrating, moisturizing, anti-aging and blemish healing products on my face. I have oily skin, so right now, I only need one more step. If you have drier skin, you should add a moisturizer before applying a sleeping mask pack. Why do you need a sleeping mask pack? Good question! You can use a cream, I know I have but make sure it is an occlusive cream. A sleeping mask pack is more occlusive than most moisturizers and the reason for this is simple. It helps lock in all of your other skin care products and can reduce trans-epidermal water loss, which is very important as you sleep. One thing to note ~ occlusive ingredients do not bring moisture into your skin, but use the existing moisture to reabsorb it back into the skin, due to its barrier function. That is why just a sleeping pack is not enough at night; you need to ensure that you have done a hydrating skincare routine before locking it all in with a sleeping mask pack. Occlusives don't feel that great on my oily skin for day time use as I find them too greasy and too oily, but for nighttime use, I do not mind. Your skin needs to recover and with a good occlusive product, it can help reset or reboot your skin, resulting in smoother and softer skin when you wake up. Your skin will repair itself overnight, so using a product with beneficial nutrients and ingredients as your last step will create a protective barrier to lock in ingredients and prevent your skin from drying out.
My Sleeping Mask Pack is by Laneige. Laneige has several sleeping mask packs: their original Water Sleeping Mask, brand new Cica Sleeping Mask and the one I totally adore, Water Sleeping Mask in Lavender. If you have very dry or damaged skin, I recommend the Cica version as it really works well for repairing. The Lavender version is just my favorite, from the lovely light lavender scent, to its gel texture that just melts away when I apply it on my skin. This contains a couple of patented compounds
Sleep-Tox™ Purification Technology: This contains Hunza Apricot and Evening Primrose extracts to help repair, restore and purify your skin.
Moisture Wrap™ Technology: This sleeping mask pack will create a porous moisture film on your skin and it uses Hydro Ion Mineral Water, a super charged mineral rich water filled with Zinc, Manganese, Magnesium, Sodium, Calcium, and Potassium to help supply moisture to your skin throughout the night.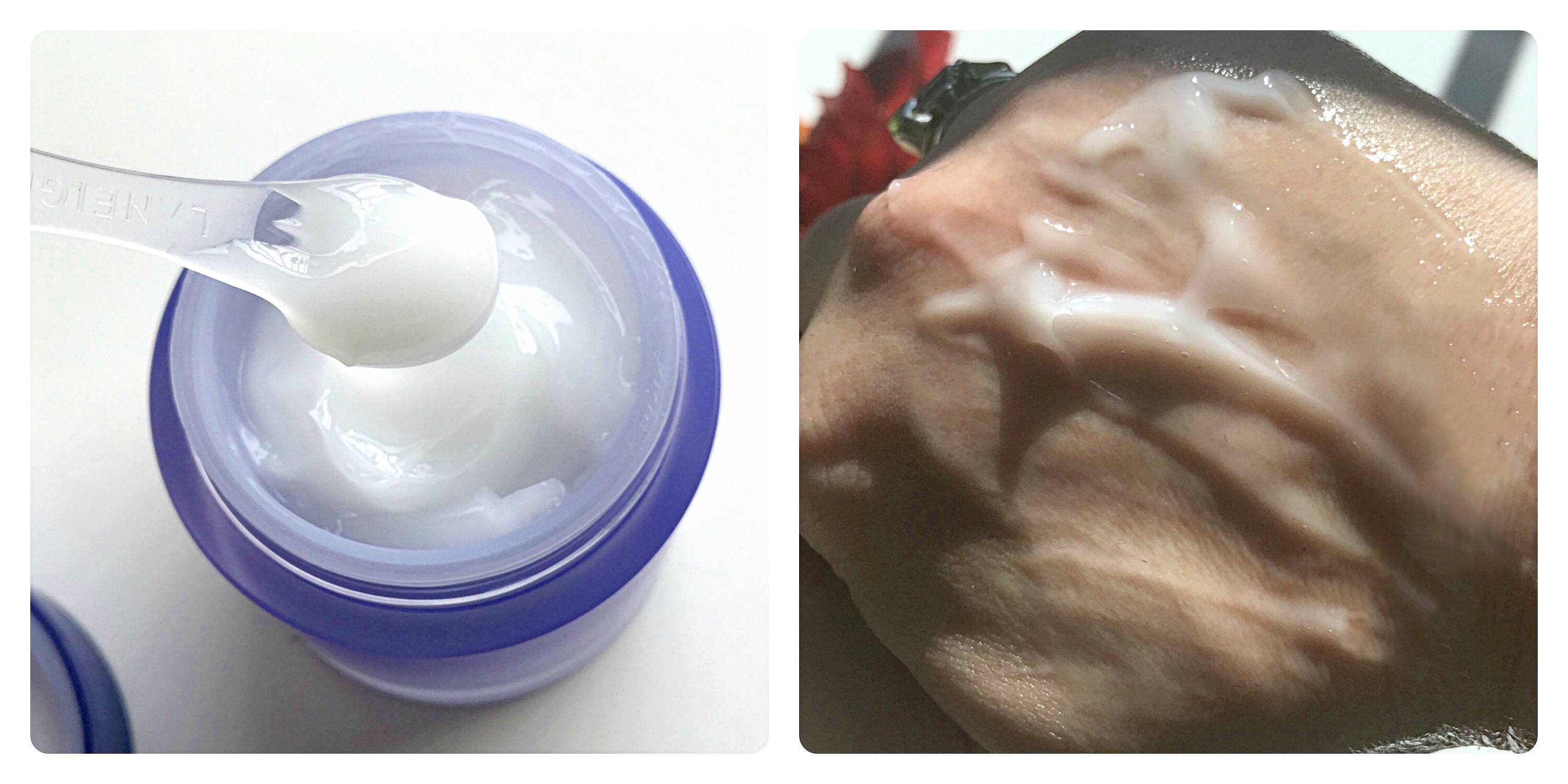 This really locks in my other skin care products – my skin is pretty shiny by this time, but I am going to bed. The magic comes in the morning - when I wake up, I just rinse off the remains of my night care routine. My skin is still soft, supple with no dryness or tightness, looking more radiant, refreshed and rested. It helps calm down redness and blemishes and despite its light gel texture, I would say this works for all skin types. My sleep skincare routine has done its job!! You don't need a lot of products to have a great skincare routine.
---
153 comments
Muchas gracias. ?Como puedo iniciar sesion?
goxevwcelg
March 27, 2021
NavbydoXSglU
September 24, 2020
TsKlHZNYV
September 24, 2020
BHKsnbAJr
September 20, 2020
vprQkFgKCX
September 20, 2020
ZSvwGUlzFiTBunMt
September 11, 2020
AtqVJEbZDO
September 11, 2020
TPmvVbgscyJijE
September 01, 2020
YQujbxgdC
September 01, 2020
zWXjFvPbYO
August 29, 2020
mfZVkTQAKbOW
August 29, 2020
aGqITpQRubcKDe
August 21, 2020
JFTrVdMSm
August 21, 2020
EkzJmoyWFL
August 11, 2020
vSsIVBfgnuFj
August 09, 2020
lCsfiaLhTG
August 09, 2020
bXBFMHrqyKfI
August 09, 2020
crosxIpaVT
August 09, 2020
YQVBgcZrLC
August 08, 2020
RjzGsNlmgVKIEi
August 08, 2020
RTzlCOGhg
August 08, 2020
DvrdlUynaAqx
August 08, 2020
JFjlnbSsgf
August 06, 2020
yoEHcOvUzZjKWL
August 06, 2020
Leave a comment