RE:P - Real Elemental Practice: The Brand Your Skin Has Been Waiting For

---
Fall came in full swing and believe me, I'm here for it. I've always been more of a fall-winter person than a spring-summer one. I enjoy seeing the leaves fall, everything slowly turning orange, warm drinks, buckling up in sweaters and coats, boots... I could honestly list hundreds of reasons why I'm a cold-weather kind of gal, but the transition from one season into the next one is not all happiness and PSL. Usually during the first month of a new season I need to be really careful about what I'm putting on my face. My skin gets super sensitive and my already easy-to-irritate complexion struggles even more than usual, so I try to keep an eye especially on ingredients and their quality.
After years and years of testing skincare products there's a couple brands I like to keep on my beauty cabinet on the regular, especially for those times of the year when I know my skin can react to everything and anything. One of those brands is RE:P.
Sustainable and down-to-earth, RE:P delivers smart skincare practices that feel natural both to the skin as well as the environment. Every single one of their products is 100% vegan, sustainable and cruelty free. Each packaging was carefully developed using responsible materials and processes which even further extends the environmentally conscious philosophy in the disposal of the products after use. While the brand is easy to find globally, AKOCO is one of the few websites carrying my absolute favorites, AKA, skincare heaven. While I'm one to think RE:P is one of those brands every skin type can make good use of, there's some staples I keep coming back to, and wanted to share them with you in case you feel tempted to give your skin a little treat with RE:P.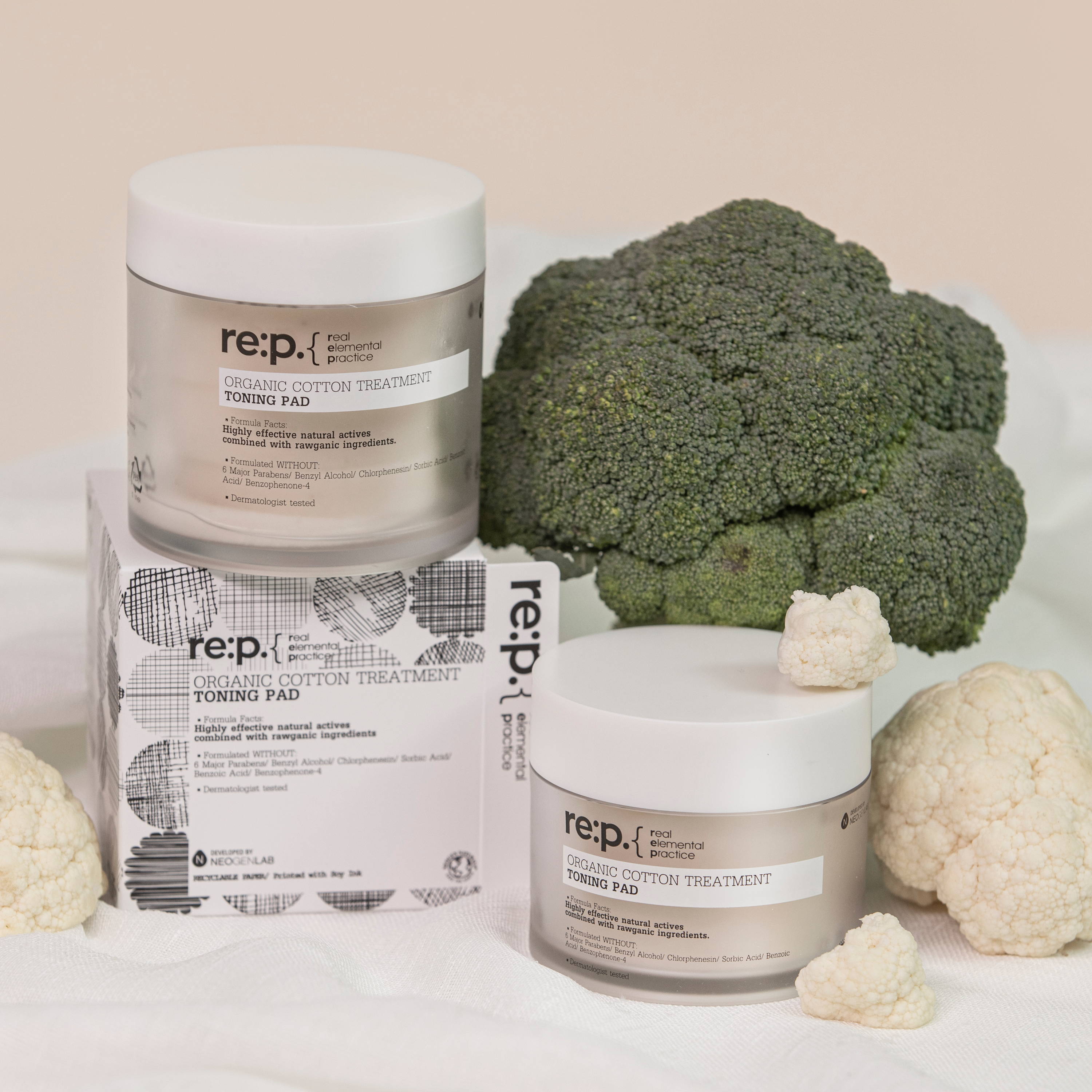 1. RE:P Organic Cotton Treatment Toning Pads :
Ok, first off, anything that comes in the form of face pads already earns a big bonus. Think of these as the way to quench your skin with incredibly soothing, yet boosting ingredients, all in one swipe. The pads are made of a soft mesh that gently removes all impurities while the herbal water infused formula the pads are soaked in helps tone up and hydrate the skin, so it stays nourished and balanced. How to introduce them to your routine? After cleansing use one pad across your face and gently wipe every corner of your skin in order to regain its natural pH balance. You can use both AM and PM, time so totally up to you whether you want a nighttime or daytime boost.
2. RE:P Bio Fresh Calming Mask with Real Herbs:
I swear I have to stop myself from eating this mask every time I put it on. It just smells OH-SO-GOOD. Like a warm bowl of oats and honey. Do you suffer from sensitivity, redness, inflammation or irritation? This mask is a godsend for you, believe me. 100% hand crushed herbs gently peel away all trapped impurities and soothe irritations for supple and softer skin while nourishing your pores and providing your skin with vitamins that will help build up a natural defense barrier. 100% vegan, this mask features Calendula and Chamomile, which soothe and gently exfoliate your skin, while Kaolin Clay roots out all impurities for a smoother, softer, and clearer complexion.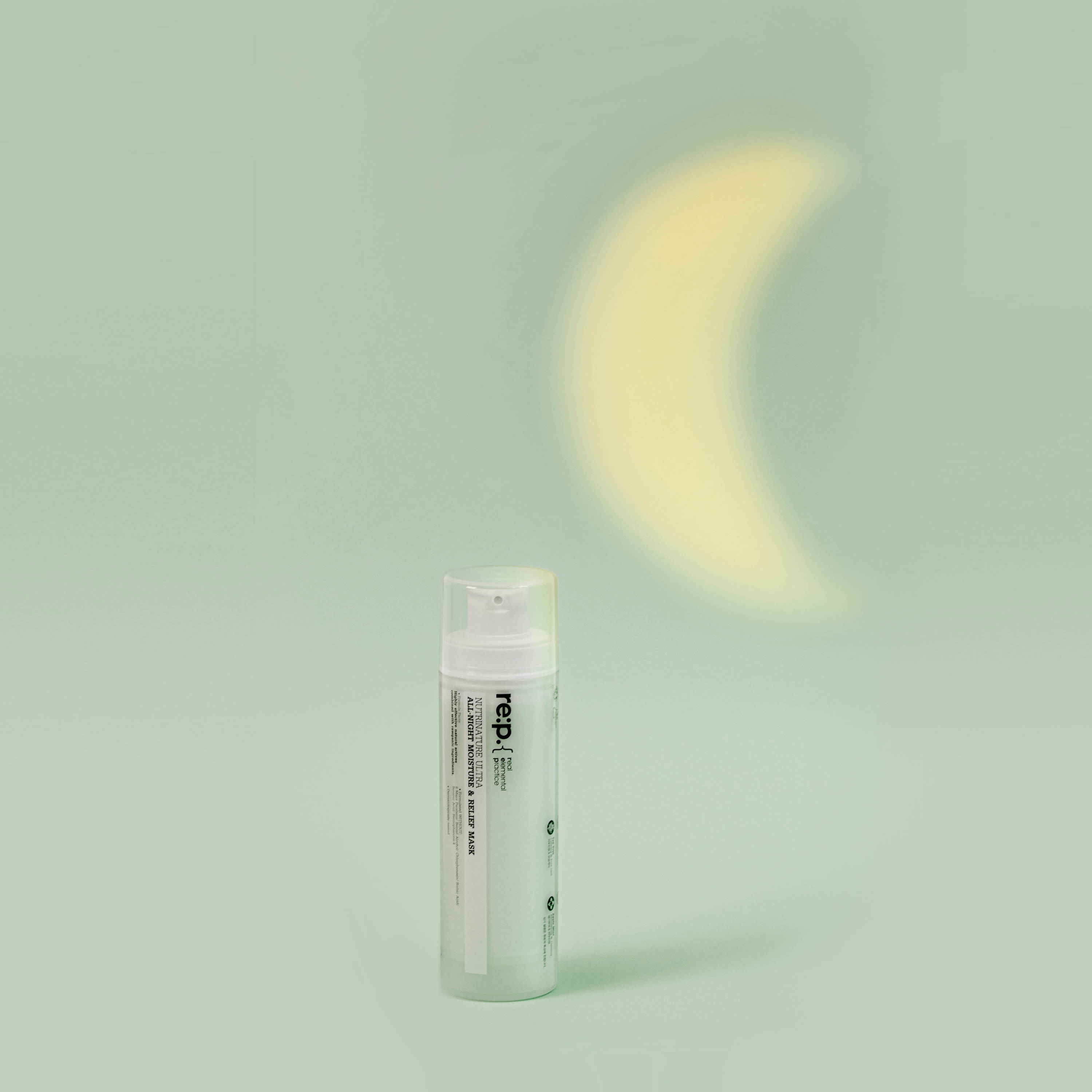 3. RE:P Nutrinature Ultra All-Night Moisture & Relief Mask:
Yeah, sheet masks are great and all, but have you tried night masks? There's nothing quite like waking up to the glorious effects of an overnight mask in my humble opinion. This moisturizing and nourishing formula - featuring Lemon Balm, Apple Mint, Tea Tree Oil, Basil Oil, Olive Oil among many more skin boosting natural ingredients - works while you are sleeping. Yep, just as you read. Isn't it a dream? (See what I did there?) The results? You wake up to replenished and abundantly hydrated skin that's going to stay moist and strong all day long.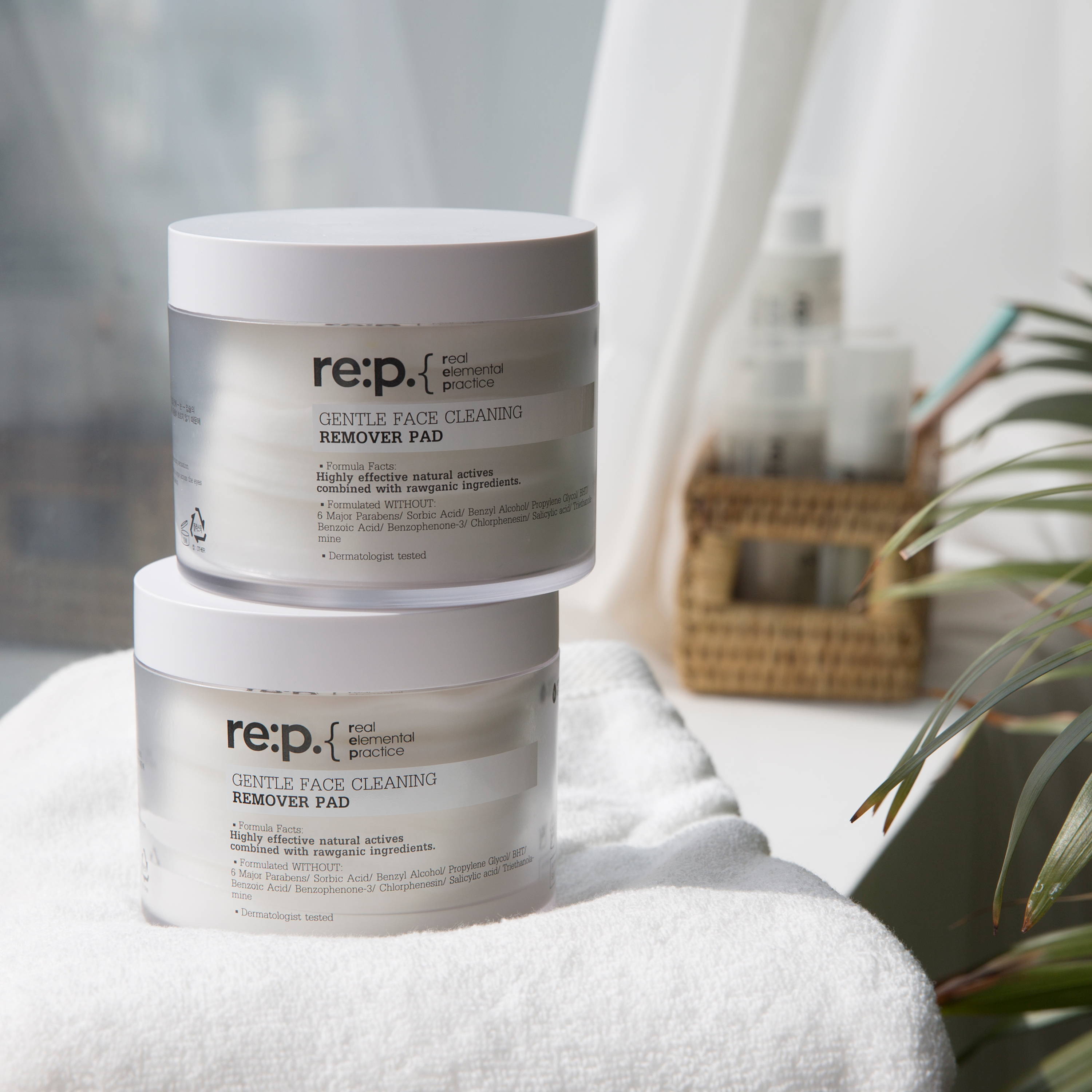 4. RE:P Gentle Face Cleaning Remover Pad:
I'm one to think there's nothing in this world that can replace a good double cleansing. And IK still think the same to this very day, but THERE ARE some products out there I rely on for lazy days, when traveling, or when my skin needs a little extra help when talking makeup removal. One of my fave for those occasions is the Cleaning Remover Pad, which gently wipes away impurities, toxins, waste, makeup traces and dust, without drying out the skin thanks to its toner-grade formula featuring soothing and moisturizing botanical extracts such as Tea Tree, Rosemary and Calendula.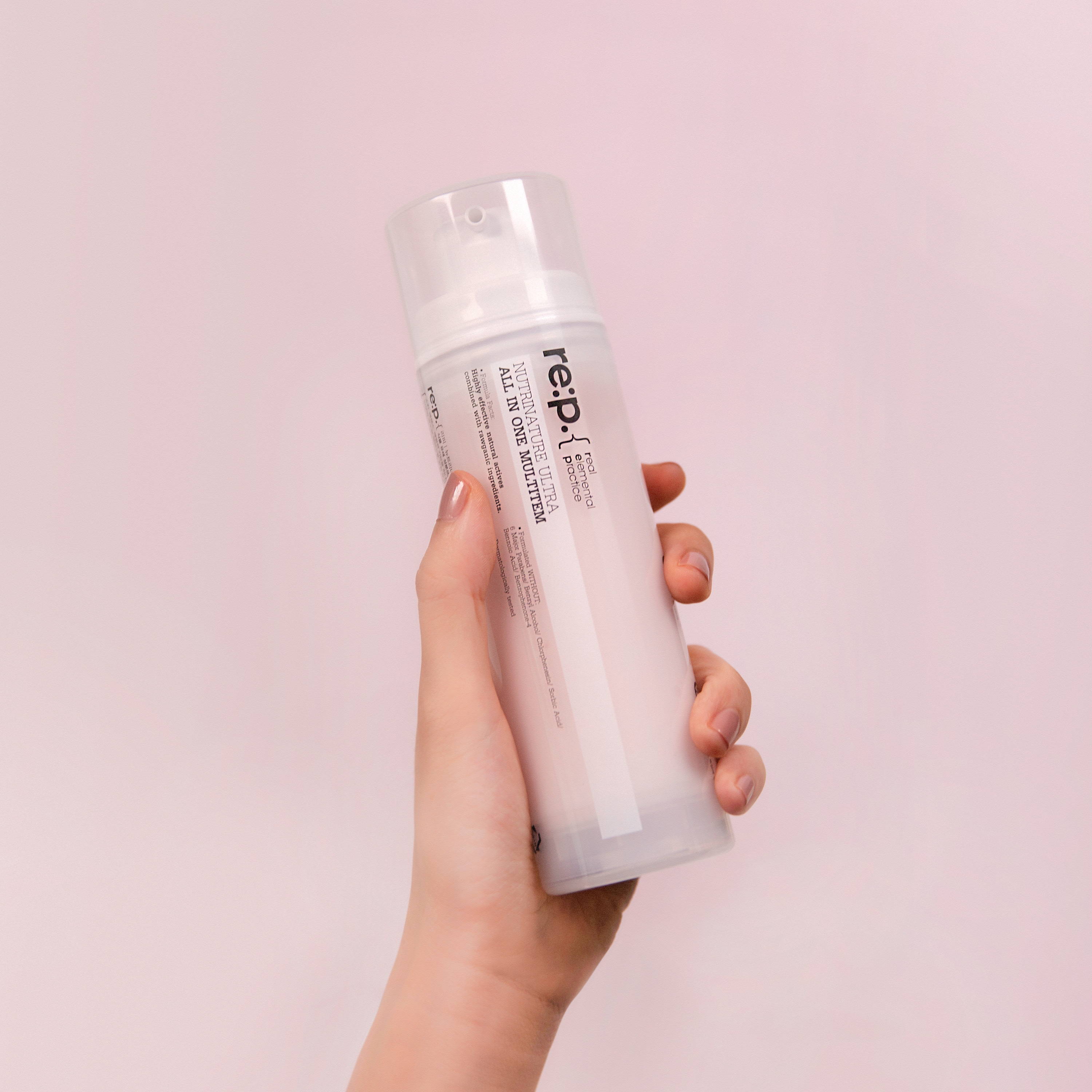 5. RE:P Nutrinature Ultra All-In-One Multitem:
Oh, how I love an all-in-one product. While multipurpose products are not always enough, I love keeping a few powerful ones on my skincare cabinet for special occasions. An absolute must on my routine is this holy grail, which revitalizes the skin in one simple step. You basically get the benefits of a toner, an essence and an emulsion in one bottle. Yep, that's right, a true godsend. What do you get from it? Brightening, hydration, skin's pH balance, soothing and skin barrier strengthening. The formula features incredible ingredients such as Niacinamide, Rosehips and Lotus Seed, plus Avocado and Olive Oil, aka, all-good-things-for-your-skin.
In a nutshell, the great deal about RE:P is how it helps the environment but also those suffering from sensitivity - AKA, me - all while making sure your skin stays healthy and protected.
Shop our RE:P collection HERE!
---
182 comments
QEpZYnyeJjRPa
September 26, 2020
IQAXOmKLNquV
September 26, 2020
WcEdwIBNCype
September 26, 2020
xUVeOcYEISzq
September 26, 2020
YVFfjqeXnBCpZP
September 26, 2020
UgSvhVfOlBRXn
September 26, 2020
DISVZpPMakRlWL
September 24, 2020
VfijaQJgycCOuek
September 24, 2020
klSzqItJsFQNV
September 23, 2020
jwcTUSZzb
September 23, 2020
yzSQpowYHfk
September 23, 2020
onbxOzlucNkv
September 23, 2020
BdXVGobcW
September 21, 2020
CJfzetXQbnVHK
September 21, 2020
hrcZiytQKdCBX
September 19, 2020
yemlkBgRiuZMDz
September 19, 2020
IRhSNCfJun
September 16, 2020
MWowYLZD
September 16, 2020
eqtnYHyXNW
September 15, 2020
uKTSGDgHiqJXb
September 15, 2020
nQOhjyBMLdUusk
September 15, 2020
DNsIELvr
September 15, 2020
FhpfjLZXaWuevMKr
September 11, 2020
VlafAPwcDh
September 11, 2020
WkSOVGuzlfTLcn
September 01, 2020
Leave a comment