Stocking Stuffers, but make it
K-Beauty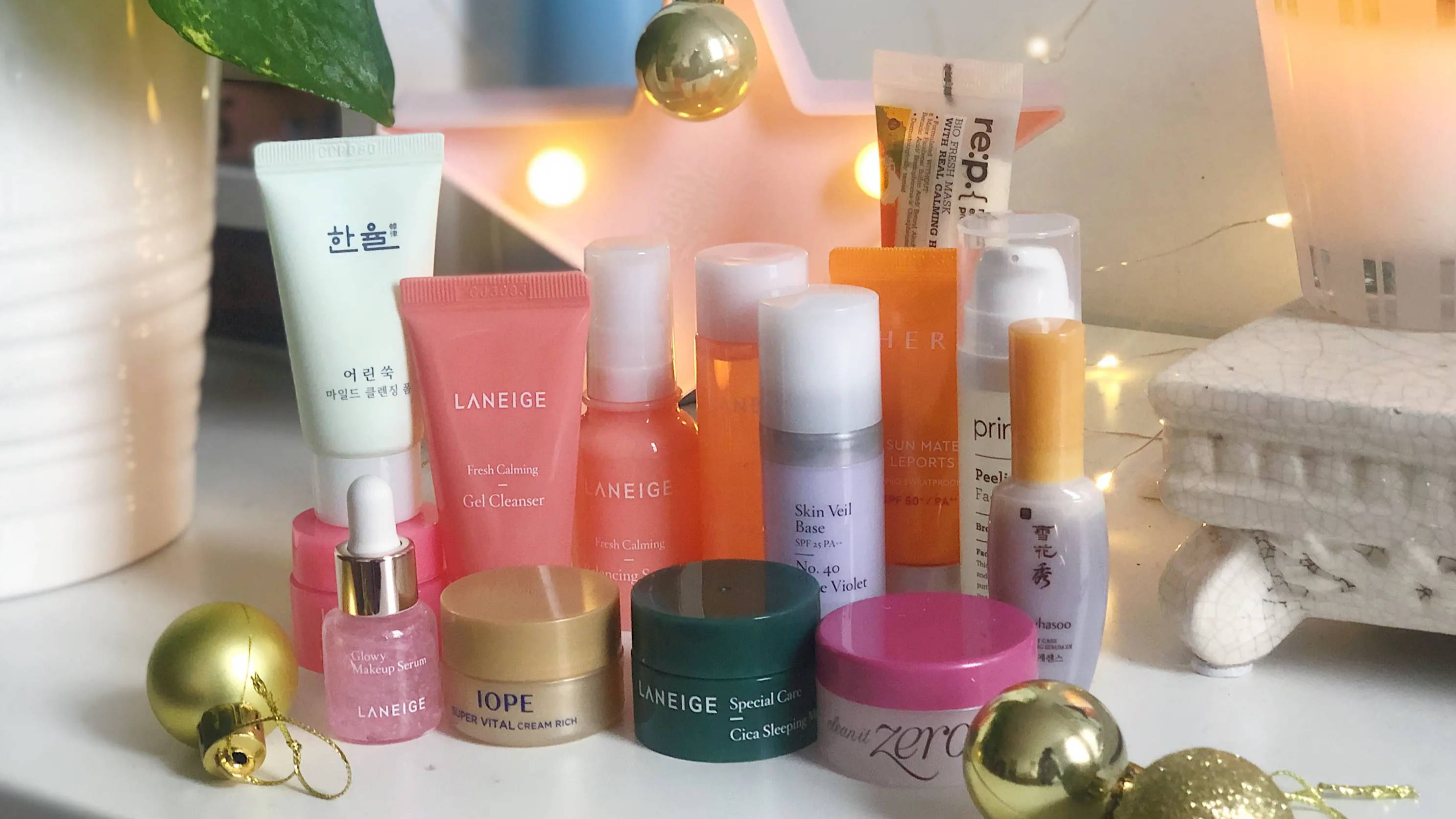 ---
Ahhh… Christmas. Can you believe it's around the corner? Not sure how the year went by so fast but here we are once again and to be honest, I'm shocked but also, isn't this the most wonderful time of the year?
There are so many different activities and rituals to Christmas. From gift-exchange to the family dinner, decorating the tree and fillin up the stockings, it's just such a joyful time and we're excited to go through it. But today I wanna focus particularly on one of these, one I've always loved because of its history and the meaning behind it: Christmas stockings.
Throughout the years I've gotten a wide variety of stocking stuffers. From candy to socks, and water bottles, but without a doubt some of my ultimate faves are those related to beauty. Actually, the very first time I tried my current favorite eye cream was after I found a mini of it in my stocking a couple years ago. Ever since then I always try to place some skincare items in stockings for friends and family, because what's a better gift than the gift of good skin?
Now, the tricky thing here is how to know what products your loved ones will like, which ones work for the skin types… asking all of them about it is certainly not an option, so here's when travel sizes become a godsend. Using skincare travel sizes for your stockings is truly a holy grail idea, both because travel sizes are ALWAYS so useful, and because it gives your loved ones the chance to test out different formulas so they can choose the ones that fit them the best.
For this holiday season, AKOCO will have tons of christmas-stocking-worthy-travel-sizes available so you can pick and choose some for your peeps! And let me tell you, it's truly a blessing: many different travel sizes, different brands, for different people… a holiday superhero tbh.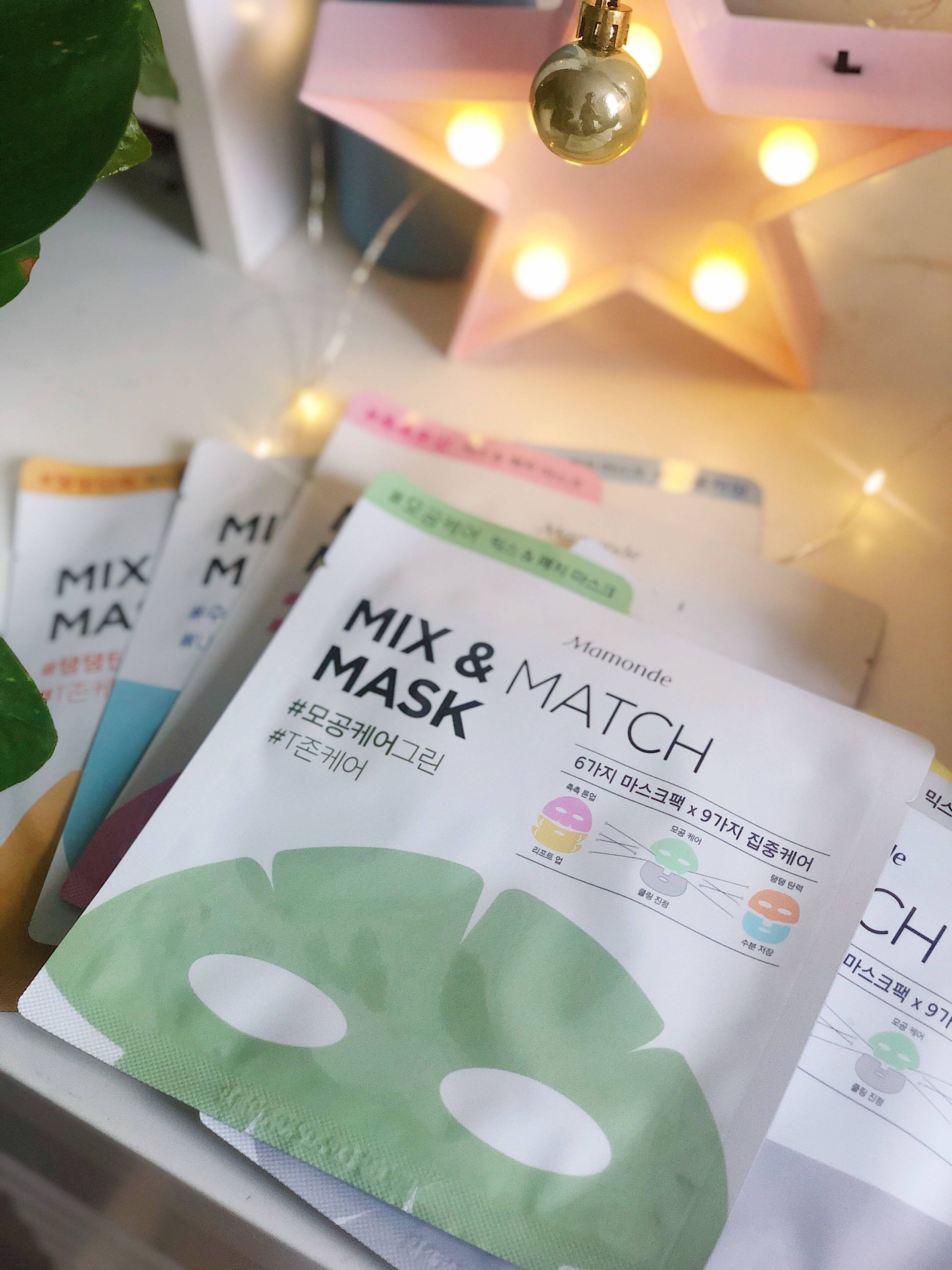 These are the things I got for myself:
A set of 5 Mix & Match Masks from Mamonde
A Fresh Calming Trial Kit from Laneige
A travel size Peeling Facial Mild from Primera
A travel size Pure Artemisia Mild Cleansing Foam from Hanyul
A travel size Skin Veil Base from Laneige
A travel size Clean it Zero Cleansing Balm from Banila Co
A mini Glowy Makeup Serum from Laneige
A mini First Care Activating Serum EX from Sulwhasoo
A mini Cica Sleeping Mask from Laneige
A travel size Lip Sleeping Mask from Laneige
A travel size Super Vital Cream from IOPE
A mini Sun Mate Leports Sunscreen from HERA
A travel size Bio Fresh Mask with Calming Herbs from RE:P
There were four products from all these which I've never tried before: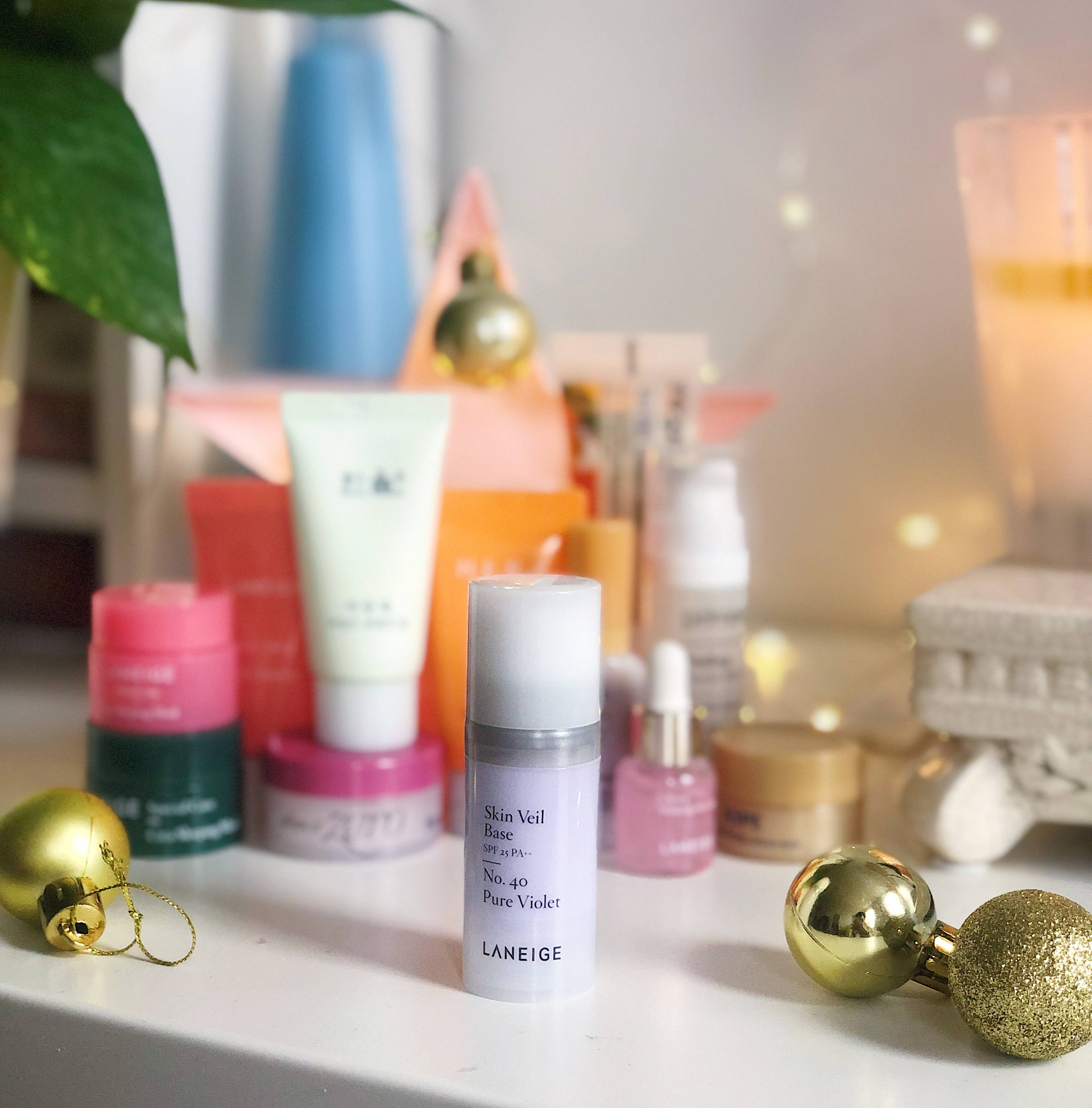 1. LANEIGE SKIN VEIL BASE SPF 25 IN PURE VIOLET:
Consider this one a rich concealer to combat yellow undertones and help brighten up dull skin. It's a great option for those with dry skin types when looking to get some light, or those with yellow spots to diminish their visibility. I've tried purple concealers before but always hated how they left a halo behind. This one absorbed well and looks so natural on the skin. Loving that.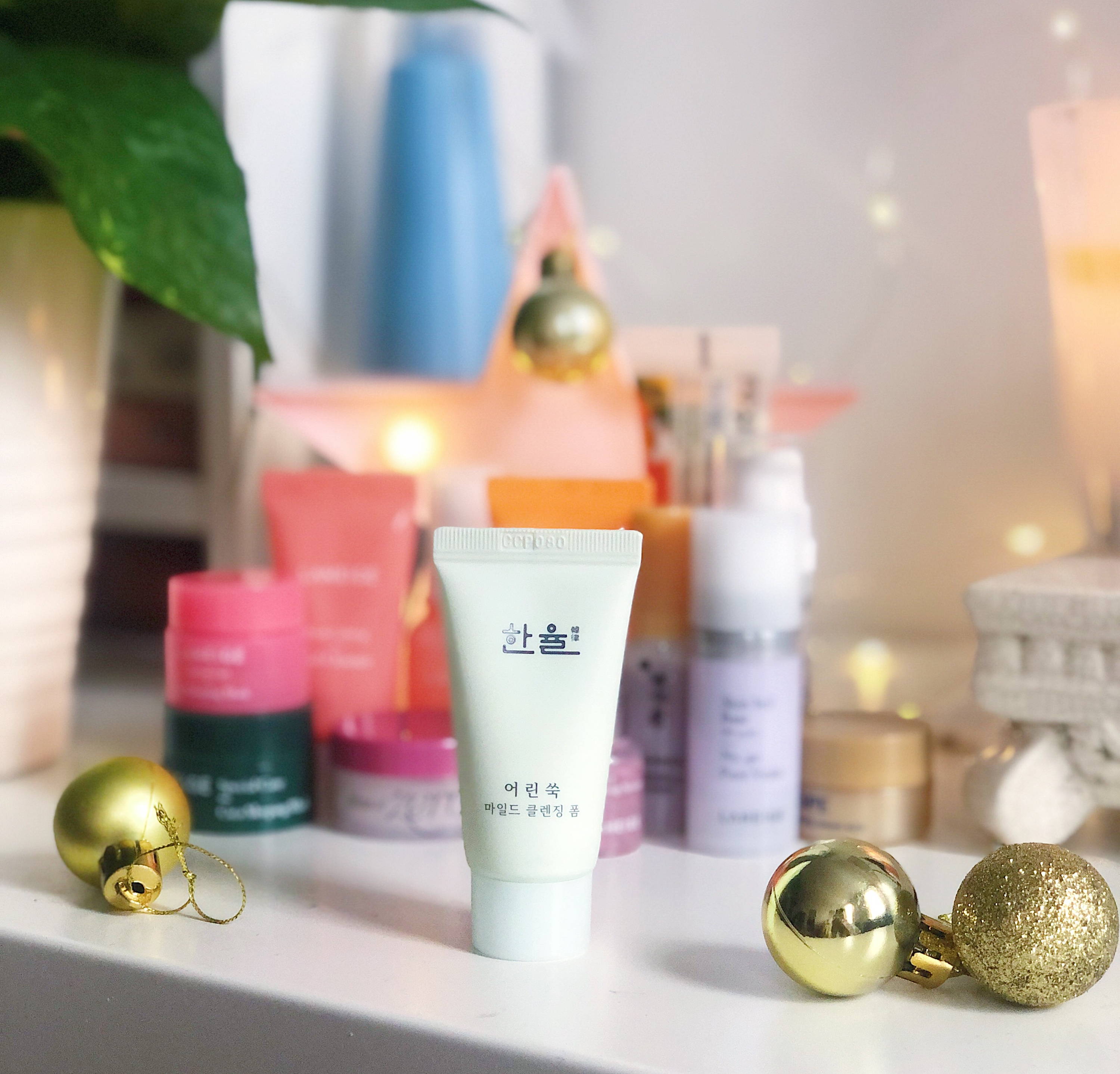 2. HANYUL Pure Artemisia Mild Cleansing Foam:
Ok, this one I'd definitely consider purchasing after trying the travel size. It's enriched with clay so helps get rid of excess sebum but without striping the skin from its natural oils, so my skin feels clean and looks hydrated afterwards.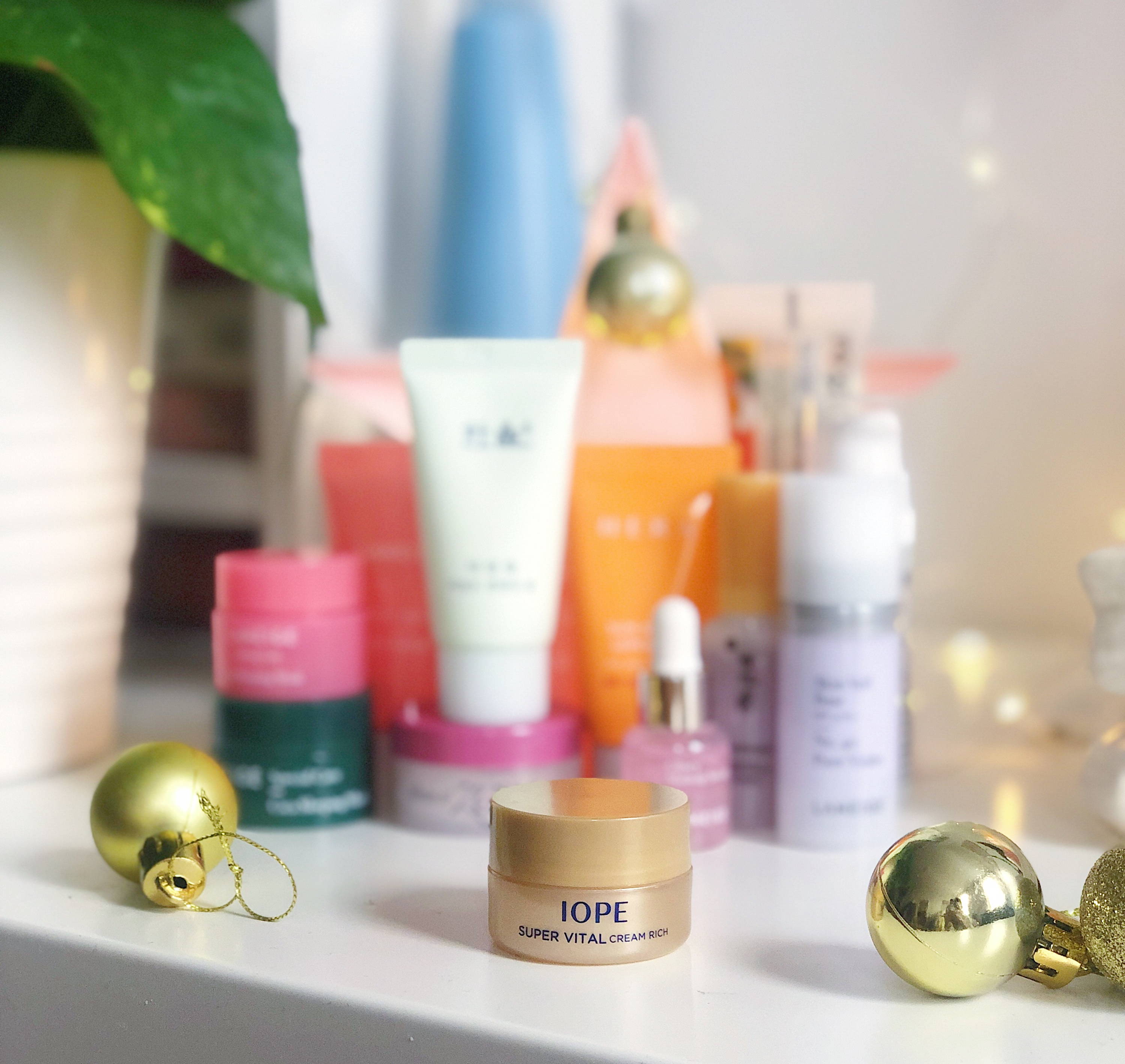 3. IOPE Super Vital Cream Rich:
The first thing I did after trying this cream was research to check if it had snail in it, because it certainly felt as nice and rich as snail extract, but nope, I was wrong, the silky texture came from Super Flavonoids and Seletinoid, AKA, a mix of powerful plants and bio ingredients to achieve firm, bright and deeply hydrated skin. Personally, I'd use this one in winter because it's maybe too heavy for my skin in summer. I guess I'll have to corroborate next season.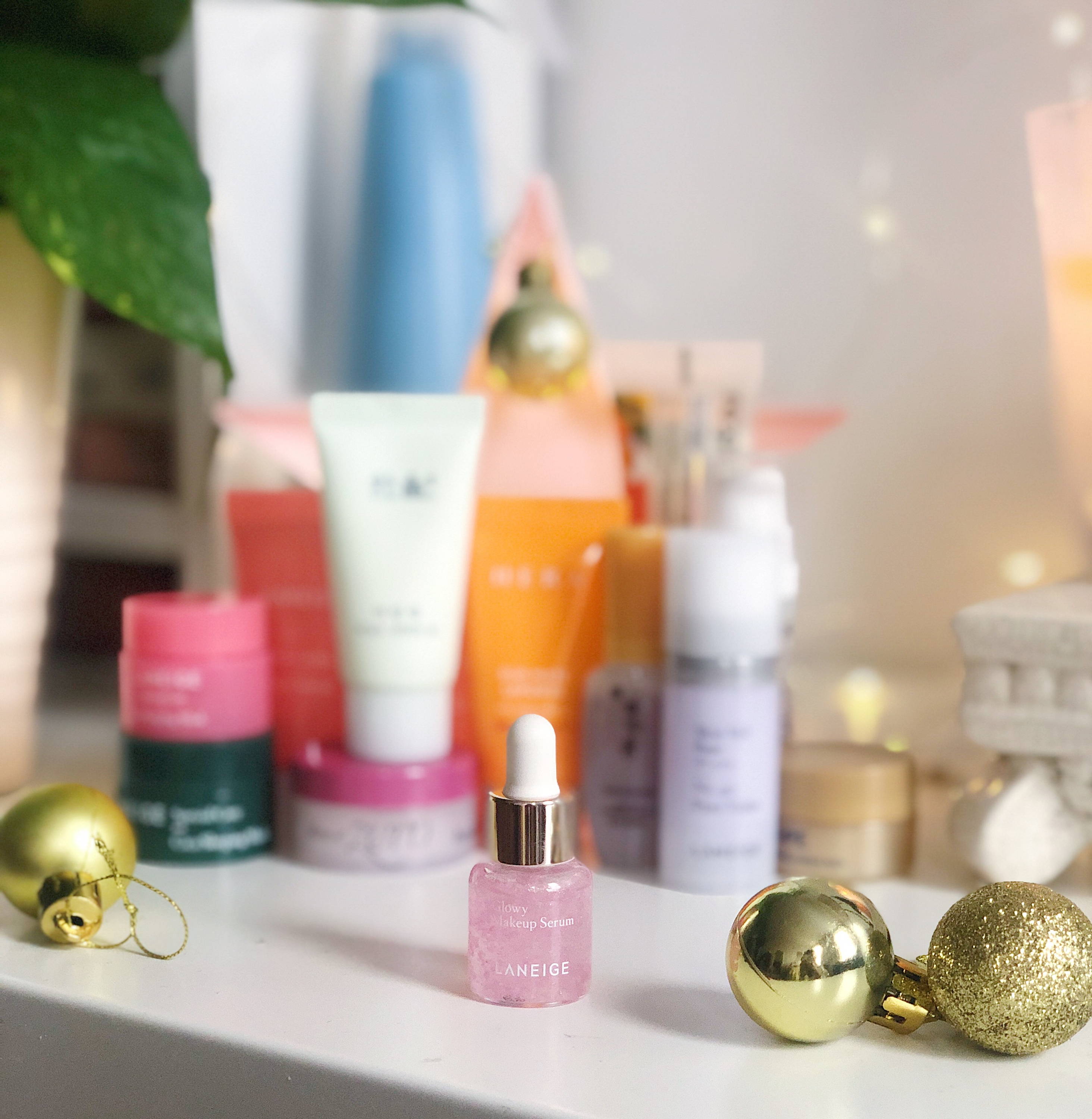 4. LANEIGE Glowy Makeup Serum:
This was the one I was the most excited to try, and thankfully it lived up to the hype. Even when it's technically a serum it's applied as a primer, right after your sunscreen and before makeup. It gives my skin a radiance boost that I swear lasts all day long. The texture is super lightweight, like a water-gel, and it adjusts well to oils so makeup doesn't break.
So yeah I'm definitely keeping those to myself and sharing the rest with my loved ones! I personally think this is a great idea for Christmas time, and a good chance to introduce your family and friends to amazing skincare. Hopefully they'll find something that will stay in their routines forever!
---
Leave a comment